Game Details:
The Palace of Auburn Hills, Detroit, MI
Orlando Magic (14-26) @ Detroit Pistons (15-25)
Date: 01/22/2013 Time: 7:30pm
Radio: FM 96.5 and AM 580 WDBO, AM 1270 WRLZ
Television: Fox Sports Florida


Magic-Pistons Preview


By MATT BEARDMORE
Posted Jan 21 2013 1:49PM


It's no secret the Orlando Magic have struggled defensively during their month-long malaise, but they've been particularly bad against teams with losing records. Perhaps facing the Detroit Pistons twice in the next six days will get them headed in the right direction Orlando will try to avoid an eighth straight loss against a sub-.500 team on Tuesday night at The Palace when they look for a fourth straight win over the Pistons.


Preview News Link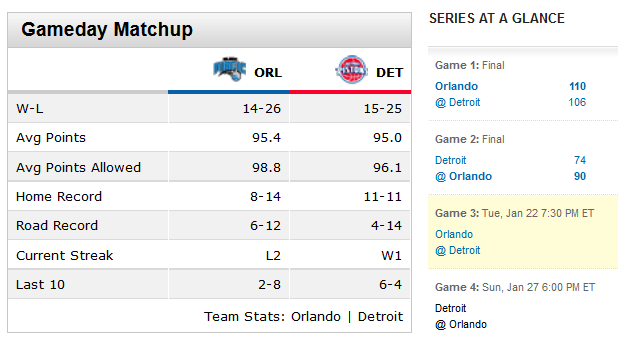 GO MAGIC!