Bringing back the thread for a more in-depth offseason look since we are all discussing ways to better the team.
So here is what we got. We all have many Magic player's that we have seen leave over the years, and many of them are currently still playing in the NBA, with several of them being big contributors on there teams. Some of them are obvious players we would take back in a heartbeat, while others are much more debatable, and in some ways, hot button topics. I will stick with major "All-Star" players for the first post and then switch to the more prominent role and bench player guys with the second. I wish the poll system allowed for more then just 3 questions, as I would like to pose all of the players there but what can you do.
So the rules are this: This is not a debate on who the Magic can get. Some of these guys are just simply not attainable now to Orlando. The question is would you take them back at their
current
skill set on this current Orlando Magic team. Make sure you give reasons as to why with each player.
The first and most obvious would be:
SF- Grant Hill
MI know this will draw the ire of my fellow Magic fans but my stance has not changed and I right now would happily take Grant Hill back on the team. One thing the Magic sorely lack currently is perimeter defense, and Grant has transformed himself into one of the better perimeter defenders in the league. He has been healthy for two seasons now, and if you go check youtube, you can tell he still has explosion in those legs of his. He still is a big time character player and loves Orlando despite the animosity the fans have for him. The only thing that gives me pause is wondering if the second he leaves Pheonix and whatever crazy bacta tank they use to keep old guys like him and Nash going, he will start breaking down again.
SG- Tracy McGrady
Yeah. No. I don't think there is anything T-Mac can do short of turning back into Mr 30 pts a night again to make me consider bringing him back. Me-Mac burned a few too many bridges here in Orlando and I consider it the sweetest of Ironies that he left Orlando to not be a one man team anymore and play alongside a quality big man in Yao and compete for a championship. Well in Houston he was a one man team and Orlando got the best big man in the game the year he left and became a championship contender. Karma Me-Mac. Karma.
SG- Vince Carter
I actually didn't want to see him leave and felt that the swap with him and Richardson was a bad idea. Now after the playoffs I think it has only been proven correct. Carter may have never blown us away but he was normally very consistent in his games for us, especially at the start of this season up until the trade. Richardson was as off and on as one player could be. With his contract now ending and his want to end his career here in Orlando, I would love to see the Magic possibly bring VC back with one of the exceptions if he is amenable to it.
PF- Rashard Lewis
The only thing that makes me not say yes is his contract. If he gets bought out somewhere down the line and is cool with taking an MLE to join the Magic again I will happily take him back. I think that defensively we have taken a step back without Rashard in the lineup (who may be less physical, but is a much more aware player then either Bass or Anderson) and that he still remains the only way the 4 out 1 in strategy works. I still feel that the trade for him and Arenas was a massive lapse in judgement by Otis, and that they should have at least seen if he and Hedo could regain their previous chemistry before unloading him. That and he was one of my favorite players ever to wear the blue and white.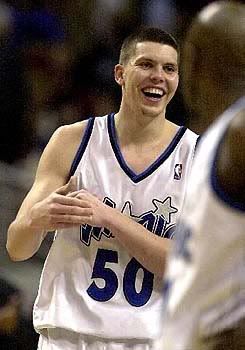 SG- Mike Miller
My yes wouldn't be as fast as it was when I first wrote this thread, but it still would be a yes, especially with his performance in the ECF against the Bulls. An absolute marksman from 3, a solid playmaker, and contributes wither a starter or bench player. I felt that him being traded away is one of the top 5 worse mistakes by the Magic organization, and it led to the eventual departure of his best friend Tracy McGrady. Bring back the former Rookie of the Year!!! (Yes I know it's not happening now that Miami has him).
C- Ben Wallace
Although we could use a backup big man right now, Wallace defensive skills have diminished so much he really can't provide much as compared to the other centers on these lists. I guess I would be amenable if he was all that was out there, and I would certainly take him over say Malik Allen, but that's about it.
SG- Corey Maggette
This guy takes a lot of thought actually. I love him as a player and what he has done in his career, but his skills offensively have certainly diminished. He definitely still has some explosion though and I wouldn't mind seeing what he could do to help on the defensive end, or what he could do as a gun off the bench like we are trying with Arenas. I guess if he wasn't looking for a big contract I would say yes though.
(This last one I only put in because of rumors that he wants to try and return to the NBA)
PG- Steve Francis
Again with a big no. This guys career is so over it's not even funny. He was good for his first half season, then went downhill and hard after his buddy Mobley was traded. Count that in with refusing to enter a game late and I'm happy to say I've seen the last of Francis not only in a Magic uni, but in the NBA in general.